CAROLINA RIVAS
Director, Writer
Carolina Rivas is a noted filmmaker, writer and social entrepreneur currently based in Barcelona. She has received acclaim both for her career within the international cinema scene and for her socially engaged arts practice. She studied at the SOGEM School of Creative Writing (Mexico) and at the School of Film Arts at UNAM (Mexico), and after majoring in theatre and butoh dance, she went on to study entrepreneurship and social economy at Barcelona Activa and Foment Formació. She is the author of the book Cine paso a paso (2010), completed with funding from FONCA (the Mexican Fund for Art and Culture).
Her career is distinguished by its progressive outlook and commitment to upholding core social values. This is reflected by her work in Mexico, where she founded the production company Creadores Contemporáneos, and in Spain, where she is president of the not-for-profit cultural organisation Open Art.
Following her short film Zona Cero (2003), selected for Cannes Film Festival, she has received numerous accolades for her work: The Color of Olives (2006) won a Golden Minar for Best Documentary Director in Russian in 2007, as well as receiving the Courage In Filmmaking award from the Women Film Critics Circle Awards (2006); Lessons for Zafirah (co-directed with Daoud Sarhandi, 2011) won Best Film in the Latin American Film Festival of van Vlaanderen, Belgium (2013); and 1 For 1 (co-directed with Daoud Sarhandi, 2013) was selected for the Portobello Film Festival, London; it also received support from the producer Lluís Miñarro (founder of the Eddie Saeta production company) in Barcelona. Rivas was also appointed to the selection panel for the DocumentaMadrid Festival in 2012.
In Spain, Rivas has produced more than fifty short films, and is also director of Videovalores, a workshop initiative empowering people with the tools and skills to create their own short films. The project, which seeks to promote social values through filmmaking, has obtained funding from "la Caixa" Foundation for Social Initiative Projects, as well as several other prestigious institutions and entities, including Filmoteca de Catalunya, Filmoteca Española, Migration Hub Networking (Berlin), European Culture Foundation (Amsterdam) and the local councils for L`Hospitalet and the local council in Santa Coloma de Gramenet. In 2019, a short film from the Videovalores series (Crevices, directed by Dyaa Naim) received the Danube MEC Award at the PLURAL+ Youth Video Festival in New York.
In Barcelona Rivas also founded the Contemporary Actors Company in 2015, which specialises in intercultural and socially inclusive theatre. She wrote and directed The Story of a Tree(2017) and Ridiculous Man (2018), an adaptation of Dostoyevsky's short story The Dream of a Ridiculous Man. Both plays were staged in Barcelona theatres. Prior to this, her debut play Huye de Zeta huye was awarded the prize for Best Theatre Work by the UNAM magazine Punto de Partida (Mexico, 2002).
Alongside her work in film and theatre, Rivas is also deeply committed to community engagement. In 2015 she established Open Art, a cultural organisation based in Barcelona. As its director, she has overseen a multidisciplinary arts programme promoting social action and the principles of the circular economy. This has included the Bank of Objects, a pioneering recycling initiative which explored innovative ways to reuse discarded objects through workshops and repair schemes. The project was sponsored by Barcelona Activa and the Barcelona City Council, the District of Sant Andreu Board for Culture, and other organisations, including Sinèrgics (Coworking Baró de Viver) and the Solidarity Service Foundation. The project was also selected to receive support from Henkel's global campaign for social engagement 'Make an Impact on Tomorrow' (MIT).
Currently, Rivas is the director of Fusion Gramenet, a Social Forum for the Integration of Citizens in Santa Coloma de Gramenet. This project was designed to provide creative opportunities for the local immigrant community, inviting residents to experiment with different creative practices such as photography and music. Some of the artistic activities have included: Fusion Photo (an intercultural photography course), Fusion Music (comprised of cultural rhythms, workshops and performance) and Fusion Theatre (drama which crosses borders, such as the play Ridiculous Man). Fusion Gramanet has been active since 2017, and is ongoing.
Translation: Orla Foster: orlafoster.com



PDF: MEMORIA DE ACTIVIDADES
(august 2020)



Prize: Videovalores(Grietas)

2019. PLURAL+ Youth Video Festival, USA

Prizes: Lessons for Zafirah

2013. Best Documentary, Latin American Film Festival van Vlaanderen, Belgium
2013. Human Rights Prize, Latin American Film Festival van Vlaanderen, Belgium
2011. Best Film, Mexico Today, FICUNAM, Mexico
2012. Best International Documentary (3rd prize), Cine Pobre Festival, Cuba
2012. Best Film, Young Jury Award, Anûû-rû âboro, New Caledonia
2011. Honorary Mention, Best Mexican Documentary, DocsDF, Mexico
2011. Honorary Mention, Best Mexican Documentary, Puebla Film Festival, Mexico
2011. Honorary Mention, Best Mexican Documentary, José Rovirosa Prize, Mexico

Prizes: The Colour of Olives

2008. Special Mention, Cine Pobre Festival, Cuba
2008. Honorary Mention, Todas las Voces Contra el Silencio, Mexico
2007. Special Mention, Cancún Riviera Maya Film Festival, Mexico
2007. Best Direction Documentary, Golden Minbar, Russia
2007. Artistic Vision, Big Sky Documentary Festival, USA
2006. Courage in Filmmaking, Women Film Critics Circle Awards, USA
2006. Special Mention Sound, Docúpolis, Spain

Prizes: Zona Cero

2004. Best Fiction Film, Tampere, Finland
2004. Best International Direction, José Zuba Jr., Belo Horizonte, Brazil
2004. Critics' Prize, José Zuba Jr., Belo Horizonte, Brazil
2004. Special Mention, Festival de Cine Independiente L'Alternativa, Spain
2004. Nomination ARIEL, Academia de Artes y Ciencias Cinematográficas, Mexico
2003. Official Selection, Festival de Cannes, France
2003. Best Film of the Festival, Latino Alucine, Canada
2003. 2nd Place Fiction, Este Corto Sí Se Ve, Mexico

Prizes: Life Ends Apruptly

2000. First Place, Comunicosfera Festival de Interdisciplinario de Comunicación
1999. Special Mention, El Hábito Festival de Cortometraje



---
DAOUD SARHANDI
Producer, Director, Photographer, Editor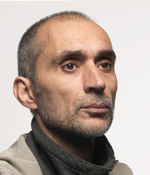 Born in London, 1962, he studied Film and Photography in London between 1982-1985. He later worked as an editor of documentaries for Channel Four Television and the BBC.

Sarhandi is now a multidisciplinary filmmaker: he is a producer, director, screenwriter, editor, photographer and sound designer; he composed music for the film Lessons for Zafirah, and was art director on the film 1 for 1.

He is also a writer: his book Evil Does Not Live Here: Posters from the Bosnian War was published in New York and London (2001). Daoud moved to Mexico in 2002, where he wrote for Eye, a London-based visual communication journal. In Mexico he published texts in Processo, Tinta Seca and La Jornada.

He is CEO and founding member of the production company Creadores Contemporáneos, founded in Mexico in 2008 in collaboration with Carolina Rivas. He is editor and designer of the book Film Step by Step: The Methodology of Self-knowledge (Carolina Rivas), published by Creadores Contemporáneos in 2010.

He is a producer, editor and photographer of the documentary The Colour of Olives (Carolina Rivas, Mexico- Palestine, 2006, 97 min.); producer, co-director (with Carolina Rivas ), photographer and editor of the documentary Lessons for Zafirah (Mexico, 2011, 75 min.); producer, co-director and co-writer (with Carolina Rivas), art director, photographer and editor of the feature film 1 for 1 (Mexico- Spain, 2013, 97 min.).

In 2015 and 2017 Daoud collaborated with Carolina Rivas in the social film project Videovalores.
Daoud currently lives in Barcelona, where he teaches film editing at La Casa del Cine. Visit his personal website for more information.



Premio Videovalores(Grietas)

2019. PLURAL+ Youth Video Festival, USA

Prizes Lessons for Zafirah

2013. Best Documentary, Latin American Film Festival van Vlaanderen, Belgium
2013. Human Rights Prize, Latin American Film Festival van Vlaanderen, Belgium
2011. Best Film, Mexico Today, FICUNAM, Mexico
2012. Best International Documentary (3rd prize), Cine Pobre Festival, Cuba
2012. Best Film, Young Jury Award, Anûû-rû âboro, New Caledonia
2011. Honorary Mention, Best Mexican Documentary, DocsDF, Mexico
2011. Honorary Mention, Best Mexican Documentary, Puebla Film Festival, Mexico
2011. Honorary Mention, Best Mexican Documentary, José Rovirosa Prize, Mexico

Prizes The Colour of Olives

2008. Special Mention, Cine Pobre Festival, Cuba
2008. Honorary Mention, Todas las Voces Contra el Silencio, Mexico
2007. Special Mention, Cancún Riviera Maya Film Festival, Mexico
2007. Best Direction Documentary, Golden Minbar, Russia
2007. Artistic Vision, Big Sky Documentary Festival, USA
2006. Courage in Filmmaking, Women Film Critics Circle Awards, USA
2006. Special Mention Sound, Docúpolis, Spain